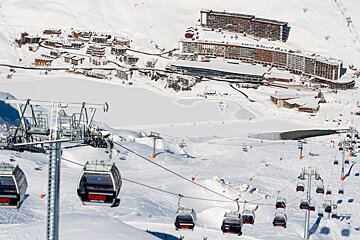 Getting around Tignes
Top tips on getting around when you're in resort
featured in
Buses
Updated
You spend weeks, if not months, planning your trip out to the mountains - how you'll get there, what type of transport you will take, how much it will cost you; but not many people give too much thought to getting around once you arrive in resort.
Bus
Luckily Tignes has a free bus service that runs all day and into the early hours of the morning to take you from A to B. The buses here not only run all day but all the way through the night too, twenty-four seven.
From 06:30 to 08:10 the buses run between Val Claret (La Grande Motte) and Le Lavachet Centre every 25 minutes. Stopping off at seven different stops en route, including Le Lac centre. From 08:30 until 21:30 the bus takes the same route and runs more frequently, every 15 minutes. After 21:30 right the way through the night the bus runs every hour. See timetables in our bus section or you will also find them at each bus stop.
Ski Lifts
You can get around the resort very easily while skiing using the lifts. All lifts open at 09:00 and close between 16:00 and 17:00 depending on where they are in resort.
Travelling between villages
Getting slightly further afield is still very easy although a bit less frequent. There is a separate free bus service that runs from Tignes Le Lac to Tignes Les Boisses. It runs from 07:15 until 19:30 every 30 minutes. After that there is one at 20:30, 22:00 and the final bus leaves at 00.00. If you are coming the other way and heading in to Tignes the last bus leaves at 00.15.
Getting to Bourg St Maurice is also easy however the service is not free. The local bus line (T15) from Bourg train station stops in Les Brevieres, Tignes 1800, Le Lac and Val Claret.
Getting down to Tignes Les Brevieres in the evening is only possible via taxi. The price can vary a lot depending on the time of year however it is usually around 20 euros.
Getting to Val d'Isere
The gondola that connects Tignes to Val D'Isere (Toviere) closes at 16:30. It is located in the centre of Le Lac and brings you out at the centre of both resorts. You can ski back down in to Le Lac, over in to Val Claret and Le Lavachet or you can ski straight down in to La Daille which has a free shuttle service connected to Val d'Isere centre.
Another way of getting over to Val D'isere is via bus (find timetables above). The plus side to this is that they run slightly later than the lifts which therefore lets you enjoy apres ski or an early dinner before having to head home and it only costs 6 euros. There is a coach that leaves from Maison de Tignes bus stop and drops you in the heart of Val d'Isere. The last bus leaves from Maison de Tignes (Tignes) at 19:20 and the last one from Val d'Isere is at 19:50. Taxis to and from Tignes to Val D'Isere run all through the day and night and cost anything from 40 euros.
Flying
There are also companies that operate helicopter services between resorts or almost anywhere in the Alps for those of you who want to splash out and see how the other half live.
Location