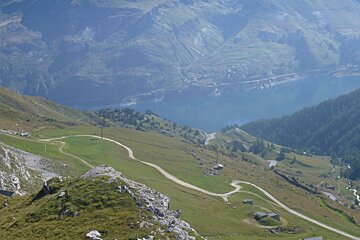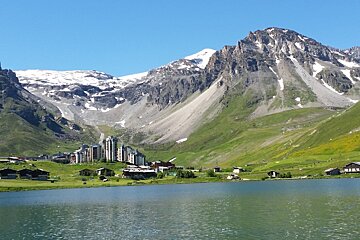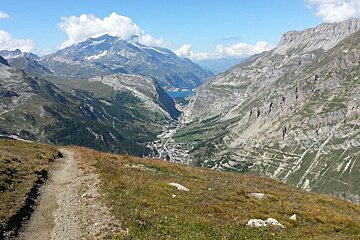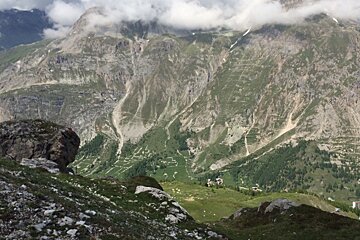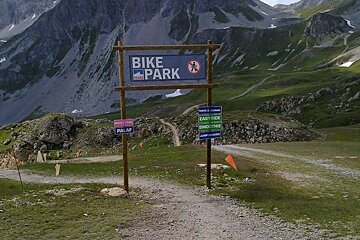 © Ellie Mahoney - Seetignes.com
Summer lifts in Tignes
Discover the Tignes summer lifts and areas
Tignes and Val d'Isère are linked in the summer by a network of lifts giving you access to the many and various hiking and mountain biking trails, as well as summer skiing on the glacier when conditions allow.
There are typically three lifts open in Tignes in the summer, two in the main part of resort (the Palafour and Toviere) and one up in Val Claret (Tufs). In Val d'Isère you can use two summer lifts, the Olympique and the Borsat. The Toviere and Tufs lifts give you access to Val d'Isère and in the opposite direction the Borsat lift connects you back to Tignes.
The lifts in Tignes start running at 10:00 and take a break for lunch for half an hour, then continue on until 17:00. In Val d'Isère they start a little earlier but also have a half hour lunch break.
The lifts are mountain-bike friendly with bike hooks, trolleys or gondola cabins that you can fit them into allowing you to access all the MTB trails in Tignes with ease.
Lifts will stop running in the case of high winds or bad weather, but you can check on this before you head out by looking at the live lift status.
Summer lift pass prices and the lift pass options are slightly different to winter - it is worth checking which lifts you can use before setting off. Paragliders also have access to a number of lifts throughout the summer.
Lift Access & Restrictions
Cable Cars
Gondolas
Chairlifts
Drag Lifts
Wheelchair Access
Grande Motte funicular and cable car (Tignes)
Olympique gondola
X
X
Pedestrians
✓
✓
✓
X
Paragliders/Parapentes
Solaise Express (Tignes)
Aeroski gondola
✓
X
Dogs
Yes, must be muzzled and kept on a lead
Yes, must be muzzled and kept on a lead
X
X
Babies
Yes, but it is inadvisable to take infants under three years up Grande Motte (3,500m)
✓
✓
X
Mountain Bikes
Bosat and Solaise Express (Tignes)
Olympique gondola
✓
X
Notes:
Babies - It is not recommended to expose babies or children under three years old to sudden changes in altitude or temperature - if lift staff consider your child too young to travel on certain lifts they reserve the right to refuse you entry.
The lifts can take you as high as 3,500m (Grande Motte) and ascend rapidly. Please consult your doctor before arriving in resort if you have heart problems or any other medical problem that may be exacerbated by a rapid change in altitude.
Season dates in Tignes
If you're looking for summer lift opening and closing dates, there is a dedicated page so please take a look here.
How to get passes
You can buy tickets directly from the lift pass offices or buy your passes in advance online. See all the summer lift prices and options available.