You've made up your mind – you want to come to Tignes on your next holiday. As you research your trip, you'll discover that there's more than one town in the area and that they all offer a great selection of chalets, apartments and hotels. Accommodation is one of the biggest expenses when booking a holiday, so you want to make sure that you've chosen the right location. Worry not, we're here to help.
With a global reputation for world-class skiing, Tignes is one of the most popular ski resorts in the world. Its high altitude, making it snow-sure both in winter and summer, is largely responsible for its success. There are several towns and villages that come under the umbrella of the brand 'Tignes', linked by an efficient and free bus service, as well as an extensive network of lifts. Tignes' five high-altitude villages each have their own character.
Five things to consider before deciding where to stay in Tignes
---
Whilst the majority of the accommodation in the area is ski-in/ski-out, the style and variety on offer in Tignes ranges from four-star luxury spa hotels to cheap and friendly ski apartments, and there are plenty of options to choose from. This guide to the different sections that make up this superb holiday area should help point you in the right direction so that you are situated as close to whatever action you are looking for. But, first things first.
Where should you stay in Tignes?
It depends on the type of holiday you'd like to have. It's always a good idea to know exactly what you're looking for: chalet or apartment, party or tranquillity, sporty or relaxed – a holiday in Tignes can offer all of these things. With an impressive assortment of accommodation hot spots, from the lively town of Le Lac to the traditional village of Les Brévières, Tignes is full of surprises.
These are some of the things you may want to consider in advance before you pick the place you want to stay in:
Distance to the pistes: Being able to ski to your door is everyone's dream – there's no better feeling than putting your skis on right outside your front door. Tignes and its surrounding area offer a good selection of ski-in and ski-out apartments, chalets and hotels. However, bear in mind that these very sought-after spots are usually more expensive than the places further away from the pistes so, if you want to save some money, you can always rely on the excellent network of free shuttle buses that run around the area and will take you to the foot of the slopes in no time.

Quiet or bustling: Is après-ski as important (or more important) than the skiing itself? In that case, you'd want to stay as close to the bars and clubs in resort as possible. However, if you'd rather stay in after a day on the slopes and prefer to avoid the hustle and bustle of the centre, one of the charming villages surrounding Tignes is probably a better choice – and, if you find yourself itching to party, you can always hop on a bus to the centre of Tignes.

Amenities: Ask yourself what you'll need around you when holidaying in Tignes. For example, if you're self-catering, you probably want to be as close to the supermarkets and restaurants as possible, while those staying in catered chalets and hotels may not need to. Having shops, ski and/or bike hire places and cafés around you can be very handy but also quite noisy.

Things to do: As with amenities, not everyone will need the same services nearby. For example, families will want to be near the ski schools meeting points to avoid trudging across resort in ski boots carrying yours and your children's skis. Having the local swimming pool and sports centre close by is also a great idea for those coming with little ones, it'll keep them entertained after a day on the slopes. Or perhaps you need a spa for a good back rub or to soak your sore muscles in a hot tub after a few hours snowboarding.

Budget: Last but not least, location is key when it comes to saving money. Generally, the closer you get to the slopes and to the resort centre, the steeper the prices will be, while the villages further away from the lifts will usually offer cheaper deals. You may have to sacrifice convenience for budget but worry not, you'll never be more than 20 minutes away from the world-renowned Tignes pistes thanks to the aforementioned shuttle buses.
Our local team's top tip: When booking accommodation, take a good look at the photos. You're going to be spending some time in this space so you may as well feel comfortable in it. It's not just about whether you prefer a cosy rustic interior or a light and airy open plan space, but also whether the layout and décor fit your needs. Are the rooms big enough? How about the bathrooms? Is there a super-modern, steep staircase your toddler won't be able to climb? What floor is the apartment on? Is it accessible by a lift? All of this matters when choosing your accommodation and not every town in Tignes will be able to provide all sorts of styles.
Tignes Le Lac: Family-friendly accommodation in Tignes' original village
---
Tignes Le Lac was the first resort built here and is still the main hub for the area as a whole. At 2,100m, it is situated between Tignes' other two big resorts, Val Claret and Lavachet, as well as the main lift connecting to neighbouring Val d'Isère.
Who should stay in Tignes Le Lac?
Tignes Le Lac is a great base for family ski holidays as there are pretty good nursery slopes for the kids here while adults can easily access the plentiful intermediate and expert terrain in the Espace Killy ski area. There are many amenities in Tignes Le Lac, including ski schools, restaurants, bars, nightclubs and even a bowling alley. Catered chalet accommodation, hotels and p;self-catering apartments are all on offer here.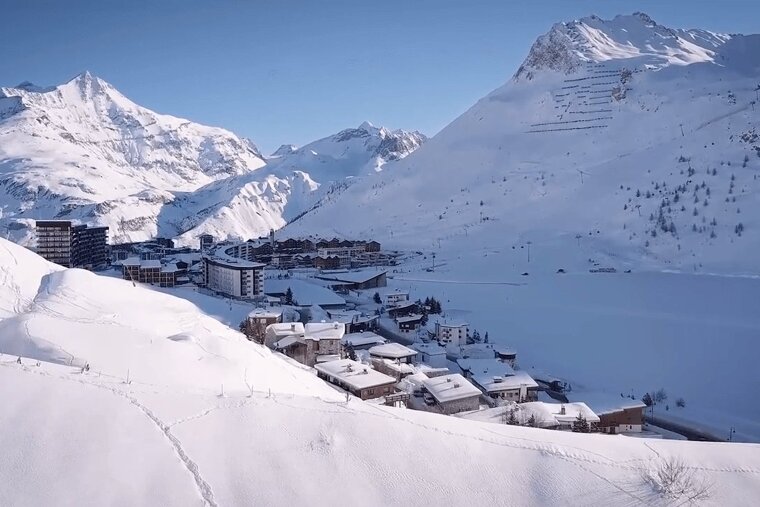 Tignes Val Claret: Summer & winter skiing access with lively village feel
---
Situated 2km above Tignes Le Lac, Tignes Val Claret is the highest of the three main Tignes villages and perhaps the most diverse in terms of nightlife.
Who should stay in Tignes Val Claret?
With loads of sports shops, restaurants and bars, this is the ideal resort for those looking to be at the centre of the action. Built on two levels, Tignes Val Claret is ideally situated close to the lifts for the Grand Motte glacier, making it the only village with direct access to summer and winter skiing. Accommodation here is mostly in self-catered apartments but there are also a handful of chalets and hotels to choose from.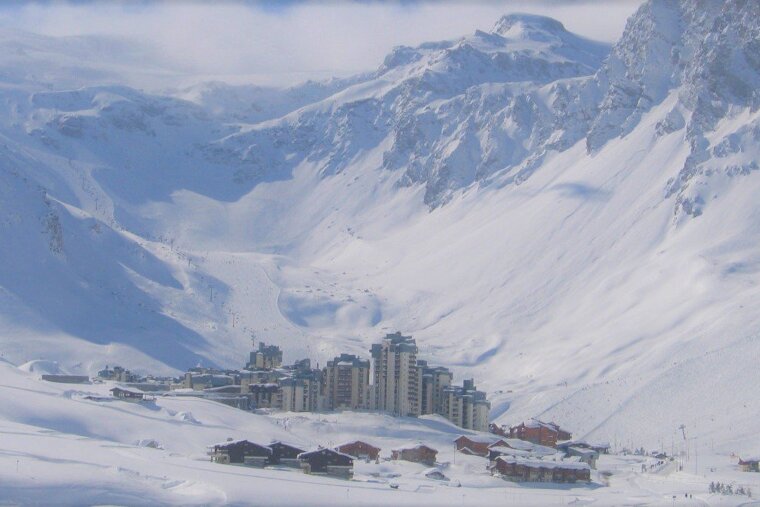 Tignes Lavachet: Quiet village with cheaper accommodation options
---
Tignes Le Lavachet is the lowest of the three central Tignes resorts and also the quietest of the when it comes to nightlife.
Who should stay in Tignes Le Lavachet?
If you want to stay somewhere with more of a local atmosphere, this is the place to be. Accommodation here is mostly in self-catering apartments or chalet-style apartments, ranging from small studios to larger and more luxurious offerings. Despite its quieter reputation, there is a good choice of restaurants and a few of the bars have a lively apres ski vibe.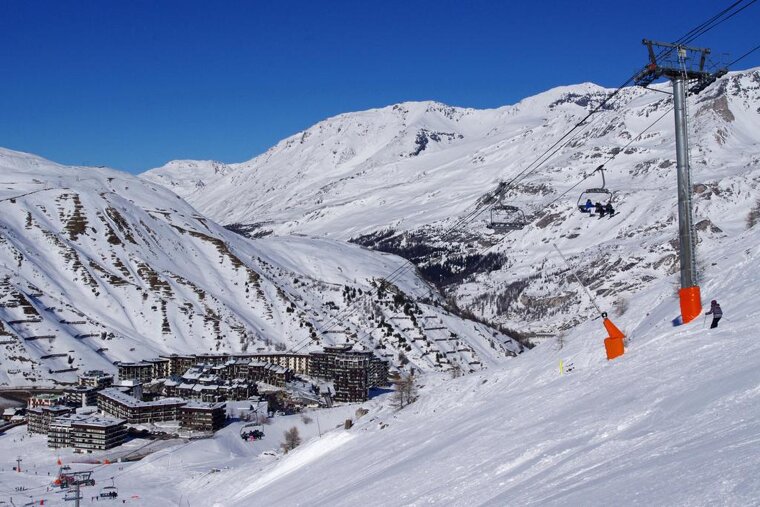 Tignes Les Boisses (Tignes 1800): Small, quiet village
---
Further down the valley is Tignes les Boisses, also known as Tignes 1800. This quiet resort has great access to the ski area thanks to the Boisses gondola which whisks you up to 2,180m in just four minutes.
Who should stay in Tignes les Boisses?
Perhaps the quietest of all the villages, Tignes les Boisses is well suited to those looking for a ski holiday away from the hustle and bustle of the central resorts. Quite a lot of money has been recently invested in Tignes 1800 to develop it, and construction works continue here every summer. Therefore, you'll be able to find new hotels and self-catering apartments here, as well as a handful of restaurants, shops and bars – and the number keeps increasing every season.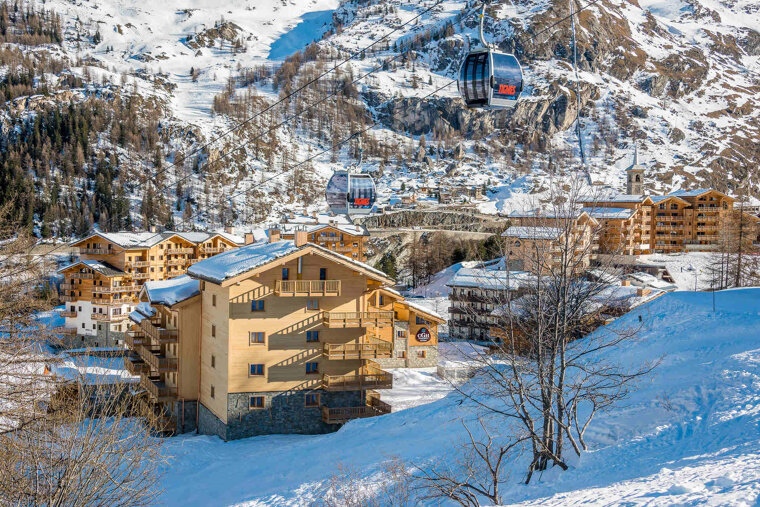 Tignes Les Brevieres: Traditional picturesque alpine village
---
The lowest of the Tignes' resorts at 1,550m, Tignes les Brevieres is a tranquil and traditional Alpine village, the oldest and prettiest of them all.
Who should stay in Tignes les Brevieres?
Tignes les Brevieres is ideal for couples or families who are looking for a relaxed but convenient ski holiday in the Espace Killy. It is a charming place to stay, has some great restaurants and bars, and a laid back après ski vibe. Access to the main ski area is relatively easy thanks to the gondola but bear in mind that there are no buses to and from here so unless you have a car, it's not easy to leave the resort once the lifts have stopped running.
Luxury hot spots in Tignes
---
If you're searching for luxury accommodation in Tignes, you're in luck! The resort offers plenty of high-end options, many of which feature private swimming pools, spas, hot tubs and even cinema rooms.
Where are luxury chalets and apartments located in Tignes?
Luxury chalets are mainly found in Tignes le Lac where they tend to offer a more contemporary style, and Les Brévières where the traditional Alpine look is more prevalent. Tignes Val Claret has a great selection of high-end apartments, many offering ski-to-door access.
Are there any five-star hotels in Tignes?
There's not only one but three five-star hotels in Tignes. They all boast all the services and facilities you might expect from a luxury establishment: elegant décor, gourmet restaurants, a relaxing spa, an in-house ski rental shop and, of course, ski-to-door access.
Romantic corners in Tignes
---
High snow-capped peaks, deep luscious forests, white snow-filled fields and cosy wooden chalets with roaring fires – a ski break can be the most romantic of holidays. In Tignes, you'll be able to make all your fairy-tale escapade dreams come true.
What's the best place to stay in Tignes for couples?
Tignes le Belvedere offers the quintessentially picturesque Alpine holiday. Picture large, traditional ski chalets nestled between the trees where you can relax in the hot tub at the end of a hard day on the pistes and enjoy wonderful panoramic mountain views.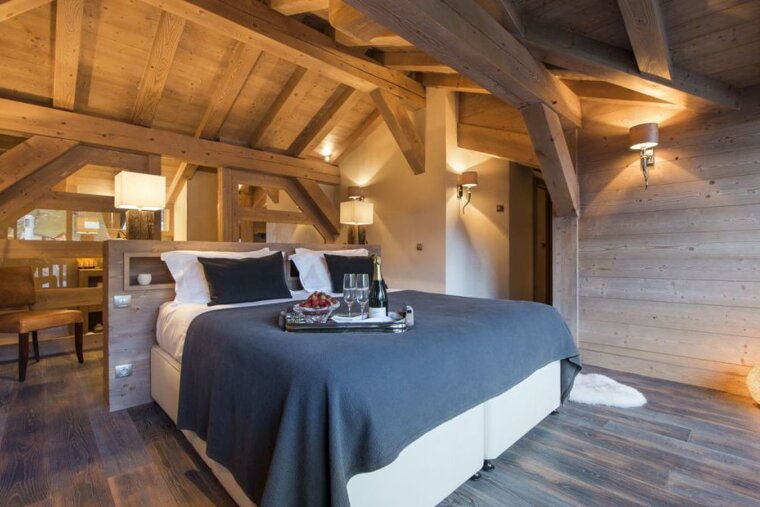 Group accommodation in Tignes
---
Groups have very specific needs, namely a big enough space and easy access to the slopes and the resort's amenities.
Where in Tignes can you find large apartments and chalets for groups?
All around Tignes you'll find chalets and apartments accommodating up to 10 people and more. However, if you want to impress your guests or you want your group of friends to make the most of what Tignes has to offer, staying in Val Claret or Le Lac is key as they have the best selection of bars, restaurants and activities off the slopes.
Family-friendly areas in Tignes
---
When travelling with young children, you ideally want to stay somewhere that has lots of facilities and services nearby so that you don't have to travel long distances to get to the slopes or the restaurants.
What's the best area for families with children to stay in Tignes?
Tignes Le Lac and Tignes Le Lavachet tend to be especially popular with families. Providing easy access to the pistes, they offer plenty of off-the-slope entertainment – there's lots to do here! Those travelling with younger children, however, may prefer the quieter resort of Tignes Les Boisses as it has a slower pace of life.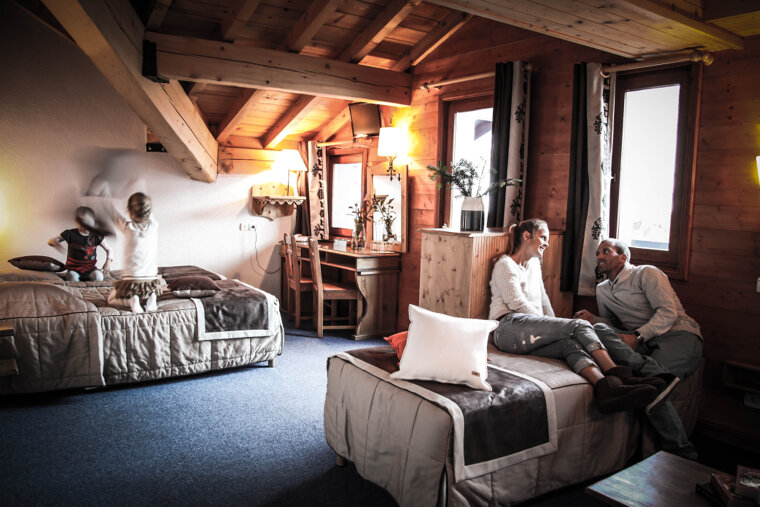 Cheap accommodation in Tignes
---
Tignes has a good number of catered chalets and self-catered apartments on offer, many of which are on the affordable end of the spectrum. In general, the further away from the centre you get, the cheaper the prices are.
What's the cheapest area to stay in Tignes?
There are bargains to be found all around Tignes. In general, Tignes Le Lavachet offers good value for money – being a bit quieter than the other two main resorts it tends to offer lower prices. Les Brévières is usually also a bit more budget-friendly, especially if you're after a chalet holiday.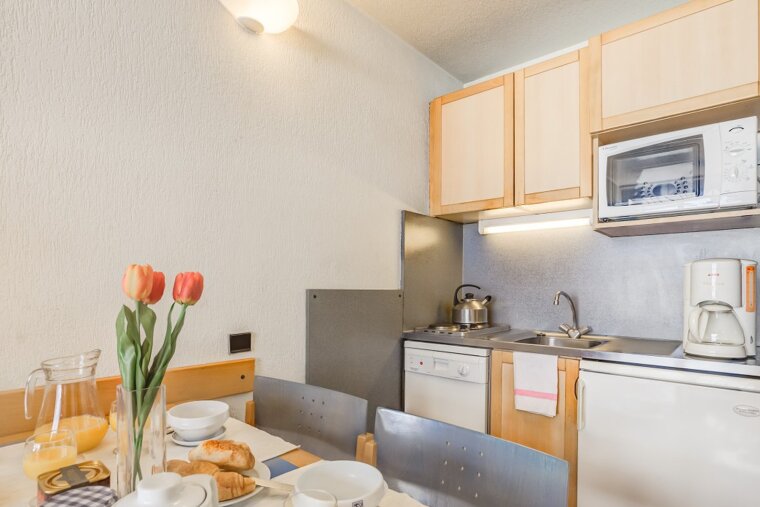 Ski-in & ski-out hot spots in Tignes
---
Ski-to-door accommodation is very popular in Tignes, which means that it gets booked out quite quickly. Prices are also usually more expensive than the accommodation a bit further away from the slopes. However, there's no greater feeling than arriving at your doorstep with your skis on, so get on booking as soon as you can if you want to experience it yourself.
Where can you find ski-to-door accommodation in Tignes?
Most of the chalets and apartments in Tignes offer ski-in/ski-out accommodation. However, the two best options are Tignes Le Lac where many of the apartment residences are located slopeside, and Tignes Val Claret because of the easy access to the Grande Motte glacier which allows you to maximise your time on the piste.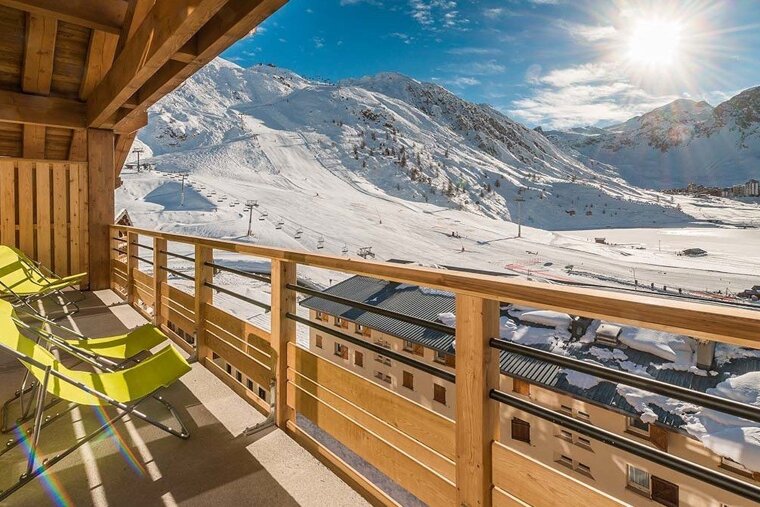 Camping & glamping in Tignes
---
Tignes attracts many people in the summer, coming to the mountains for its world-renowned mountain bike trails and hiking routes. Many of them come with their campervan or motorhome.
Are there any motorhome areas or campsites in Tignes?
France is famous for its well-equipped motorhome areas or 'aires de camping-car' and Tignes is no exception. In the summer, campervans and motorhomes can stay overnight at the Grande Motte car park and the Les Brévières campsite (closed for campervans and motorhomes in the winter). These paid-for areas offer toilets, electricity and water. There are, unfortunately, no campsites in Tignes but you'll find a good selection in Bourg St Maurice, the town just down the valley.