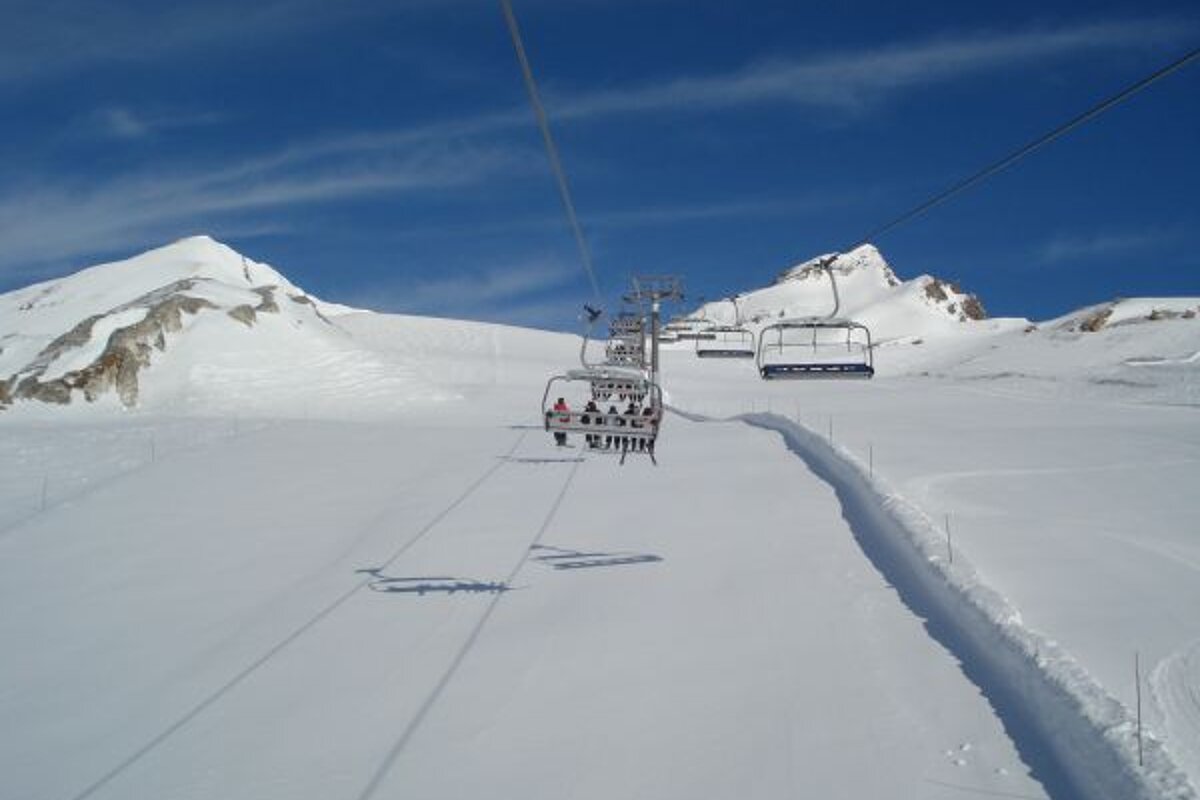 Ski Lifts in Tignes
Discover the top Tignes ski lifts
Tignes and the Espace Killy are linked by a variety of different lifts, taking you from the lowest resort level at 1,550 metres all the way up to 3,450 metres.
There are over 300km of pistes for all abilities (20 green runs, 68 blue runs, 40 red runs and 26 black runs) which you can access via the 88 ski lifts covering the Tignes & Val d'Isere ski area. Tignes itself has 39 lifts, most of which are chairlifts, with 13 drag lifts. It also has 9 slalom courses, 1 mogul field, 2 snow parks and 1 gliss' park.
Tignes also has the Grande Motte Funicular, a high-speed inclined cable railway that leaves from Val Claret and takes skiers, hikers and sightseers up to the Grande Motte Glacier at 3032m. The journey of 3484m takes between 6-8 minutes and the 'funi' can carry up to 280 passengers at a time, which equates to 2500 people per hour when at full capacity. Funiculars operate on a kind of pulley system; the two trains are connected by long stretches of cable and travel along the same track (except for when they pass in the middle). The weight of the train travelling downhill assists the progress of the train travelling uphill, making it an energy-efficient mode of transport. The views from the funicular are spectacular and at the top you will find the Panoramic Restaurant, the Ice Caves and walking trails (only in summer) and a great ski area. At certain times there is a cross country trail on the glacier, a snow park and a world cup bumps field.
The lifts in the Tignes area are open not only in the winter but in the summer time too meaning you can enjoy all the activities the mountain has to offer almost all year round.
Lift Access & Restrictions
Tignes Lift Access & Restrictions

Grand Motte Funicular
Grand Motte Cable Car
Aéroski (gondola) de Tovière
Télésiège (chairlift) de Palafour
Sache Cable Car
Wheelchair Access

Yes

Yes

No

No

No

Paragliders/Parapente

No

No

Yes

No

No

Pedestrians

Yes

Yes

Yes

Yes

Yes

Dogs

Yes

No

No

No

Yes

Babies

No

Yes

Yes

Yes

Yes
During the winter season Tignes offers adaptive seats that enable people with physical impairments use of the chairlifts. Read more in our Disabled Skiing Guide.
Dogs must be kept on a lead at all times and are forbidden on the pistes during the ski season.
It is not recommended to expose babies to sudden changes in altitude or temperature - if lift staff consider your child too young to travel on certain lifts they reserve the right to refuse you entry. Take a look at our Tips for Families & Kids section for advice.
NB The Tignes lifts can take you as high as 3500m (Grande Motte) and ascend rapidly. Please consult your doctor before arriving in resort if you have heart problems or any other medical problem that may be exacerbated by a change in altitude.