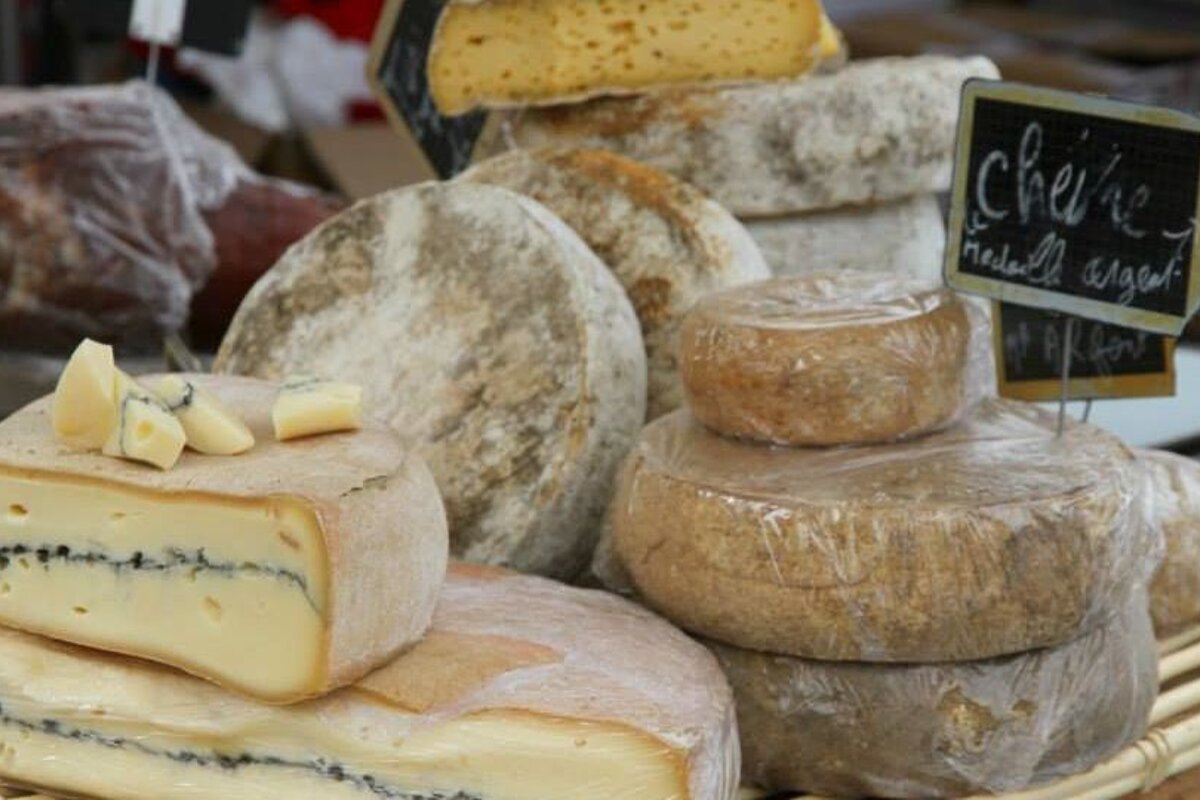 Cheeses
France has so many excellent cheeses, here are the most common Savoyard varieties
From fondue to croute, few Alpine dishes come without a helping of cheese. Here are the most common ones that you'll find in typical Savoyard restaurants in Tignes.
Reblochon is the cheese most often used in Tartiflette; it is made from raw cow's milk and is a soft cheese with a gentle nutty flavour. It is produced in the Aravis massif, with Thônes being the centre of production. This cheese originated in the Savoie in the 13th century as an early form of tax avoidance. Farmers used to avoid milking their cows fully while the landowner was present as they paid a tax on their produce. When he had gone they used to milk the rest and quickly turn it into cheese before it went off; the second lot of milk was often thicker and richer than the first and the cheese was often made while the milk was still warm. The name Reblochon comes from the local word for milking a cow 'blocher' to re-blocher was to milk it again. It can be enjoyed with a Vin de Savoie Pommard.
Beaufort is one of the most well-known Savoie cheeses. It is a hard yellow cheese with a sharp flavour, similar to gruyere (but without the holes) and is made from the full-cream milk of Tarentaise cows. Beaufort d'Alpage is produced in alpine chalets and you can often watch it being made and buy it fresh from the farm shop. It goes well with Seysel and Chablis wines.
Beaufort Emmenthal is a member of the Beaufort family – it is the biggest cheese made in the Savoie and a wheel can measure up to 70kg. You can sometimes feel as if you've eaten a whole one after a particularly hearty raclette. It can be complimented with a white wine from the nearby Jura region.
Abondance has been manufactured since the Middle Ages by monks who settled in the Chablais region and is named after the small commune from which it originates; it is made exclusively from Abondance cattle and has been granted an AOC. It is a semi-hard cheese with a sharp fruity flavour; it is best to remove the crusty rind before eating.
Chevrotin is a farmhouse goat's cheese that has been made since the 12th century in the Chain des Aravis. It is a soft, creamy and very tasty cheese with a slightly pink rind covered in fine white mould.
Tomme de Savoie is the oldest and most popular of the Savoie cheeses. It is made from the skim milk left over after the cream has been used to make butter or a richer cheese; it is, therefore, quite low in fat. It has a mild salty flavour and can taste different depending on whether it was made from the milk of cows that were fed on hay during the winter or fresh meadow grass during the summer. To preserve its authenticity every Tomme produced in the Savoie must have its name printed on the rind. Either a Vin de Savoie or a Cotes de Beaune would wash it down nicely.
Vacherin de Bauges is a very ancient cheese that was a favourite of the Savoyard dukes during the Middle Ages. It is made in the Bauges Mountains using cow's milk and is a soft cheese with a slightly sweet flavour. When you buy Vacherin it is presented in a round wooden box. You can leave the cheese in the box, warm it through and then dip into it like a fondue with whatever crudités take your fancy.
Although the Alps are not renowned for their blue cheeses there are two that are locally produced ; Bleu de Termignon from Lanslebourg in Les Arcs and Persillé de Tarentaise, a veined goats cheese which is hard and crumbly.