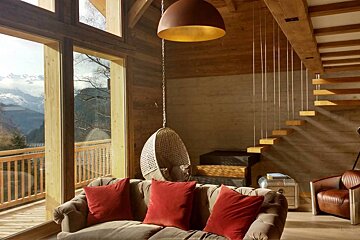 Property renovation in Tignes
Discover the Tignes property redevelopment options
The most common reasons that people have for wanting to move to the Tignes area are the clean air, great outdoor sports, picturesque chalets & buildings and beautiful scenery. So, how do you go about renovating your dream Tignes home without impacting on the environment? The following article was written by Alpine Eco, an architecture, engineering and project management consultancy focusing on sustainable construction..
Restorations & conversions
With so much of France already crowded with buildings, what better way to build your dream home than converting or restoring an existing building? Historic buildings have a certain charm and the combination of traditional and modern elements in a converted farmhouse or barn can add a really exciting dynamic to your home. Tignes restoration projects can be very daunting for the uninitiated and it can be difficult to know where to start. Speaking to an expert is vital but here are a few quick tips:
Fix structural deficiencies such as rotted sills, bulging walls, insect damage, sagging beams, wood rot
Replace worn-out roofing materials
Remove or encapsulate potentially hazardous materials, such as asbestos
Repair, upgrade or replace outdated heating, plumbing or electrical systems (wholesale replacement, however, is not always needed)
Improve resale value by removing architecturally insensitive and incompatible remodellings
Keep up with routine maintenance, such as cleaning out gutters, painting exterior woodwork or repairing broken fixtures
Upgrade the kitchen and bathrooms to modern standards. The styling of these improvements can be within the spirit of the home's historic period or even thoroughly contemporary.
Energy consumption
Your home could be costing you money every day, especially in areas like the Alps during the cold alpine winters. With the rapid advances of building techniques and construction methods even homes that are only five years old can use significantly more energy than recently built houses. All homes for sale now need an energy certificate similar to those found on kitchen appliances. Take a quick look through the estate agent windows in many areas and you'll see a lot of low-rated homes but virtually nothing in the top A, B or C ratings.
Green engineering
Once you've made your home nice and cosy, the next step is to see how you can provide your energy requirements in a more efficient way. The market is awash with innovative products that claim to cut your bills by huge amounts using the power of the sun or the wind but do they really work? Well the answer is, 'it depends'.
Factors such as the age and construction of your building, how and when it's occupied, and the local climatic conditions can combine to provide either a successful solution or an expensive mistake. Hidden by mountains some areas barely receive any daytime sun during the winter so solar panels wouldn't be the ideal choice. But with the open spaces and sunshine of the south coast of France this could be the prefect solution. Speaking to a professional energy consultant can make sure that you get the right solution tailored for your home and budget.
Tax credits & funding
The French government provides a range of incentives to help you, the homeowner, improve the energy efficiency of your house. Most renewable energy systems and home improvements such as insulation qualify for a 'crédit d'impôt' or tax credit. Each household could be eligible for up to €16,000 of tax credits and, if you pay little or no tax, you will receive a cheque from the taxman. Other schemes such as feed-in tariffs, 0% loan schemes and VAT at 7% also exist so that saving energy becomes affordable to everybody.