Coming to a ski resort for the first time as a beginner skier or snowboarder can be a bit daunting, especially if this is your first ski holiday in Tignes. With a little bit of locals know-how, we've got some suggestions to help you make the most of your time skiing here.
Tignes and the wider Espace Killy ski area over towards Val d'Isere offer some great opportunities for beginners to get to grips with their new sporting addiction.
---

Which lifts can you use for free if any?
Being a beginner skier in Tignes can actually be quite cheap! OK, you might have to invest in some ski lessons to get the ball rolling and make sure you start out on the right track, but many beginner lifts are free. That's right… free! For the magic carpet, the Lavachet drag, and the Rosset chair in Le Lac and the Bollin chair in Val Claret you don't need a lift pass so you can enjoy lapping these lifts to build your confidence until you're ready to go up the mountains.
---

Which lifts are best for beginners and why?
Head to Grand Pre for wide open pistes. Once you're ready, head to Grand Pre chair (between Tignes and Val D'Isere) for wide open green runs to ease yourself into being up the mountain. From here you can get the Fontaine Froide chair back up to more green and blue runs. If you need a break on route stop at the Bellevarde Restaurant just below the top of Fontaine Froide for arguably the best Hot Chocolate on the mountain (there are Smarties involved!) Read more about beginner ski areas.
---

Which pistes are the most beginner friendly?
Be aware that a green run in the Espace Killy can be different to a green run in the Three Valleys. Whilst there is plenty of terrain for beginners in the Espace Killy, some green runs are trickier than in other resorts. So if you have skied elsewhere before coming to Tignes, start on easier slopes and build up again rather than going straight in where you left off. If you have lessons, the instructor will be sure to use the most appropriate terrain for your ability and can help to build up the skills needed for the trickier runs. Find green runs on the piste maps.
---
Where to rent your gear & clothing?
For equipment hire try Tignes Spirit, they have a great range of equipment for beginners upwards and also offer a great service. New Generation Ski School clients also get 40% off their rental so if you've already booked your beginner lessons you can enjoy a great discount too. Not only do they rent skis and boots but they also rent clothes/equipment so whether you need to hire goggles and a helmet or your whole ski ensemble, they can help. Find more ski hire shops in Tignes.
---
What to wear or bring?
Buying all the gear before you go can be daunting if you've never set foot in a ski resort before. Look for all weather goggles and technical ski socks, not the thickest ones you can find in your drawer! The key items to bring with you, along with the obvious ski jacket, salopettes and sunglasses, are as follows:
Layers - thermal tops and leggings, fleeces, hoodies, hats and a good pair of ski gloves (there's nothing worse than cold fingers!) Weather on the mountain can change pretty quickly, and you are much better off wearing thinner items as opposed to big, bulky jumpers that take you from one extreme to another!
Socks - a variety of socks ranging in thickness, it may sound weird but in my experience hire boots can be quite painful with the wrong socks.
Sun cream - even when it's cloudy the sun here can (and will) still get you, and don't forget the underneath of your chin as the sun reflects off the snow too. Also don't forget to use a lip salve with an SPF.
Piste map - make sure to always have one in your pocket while you're out on the mountain.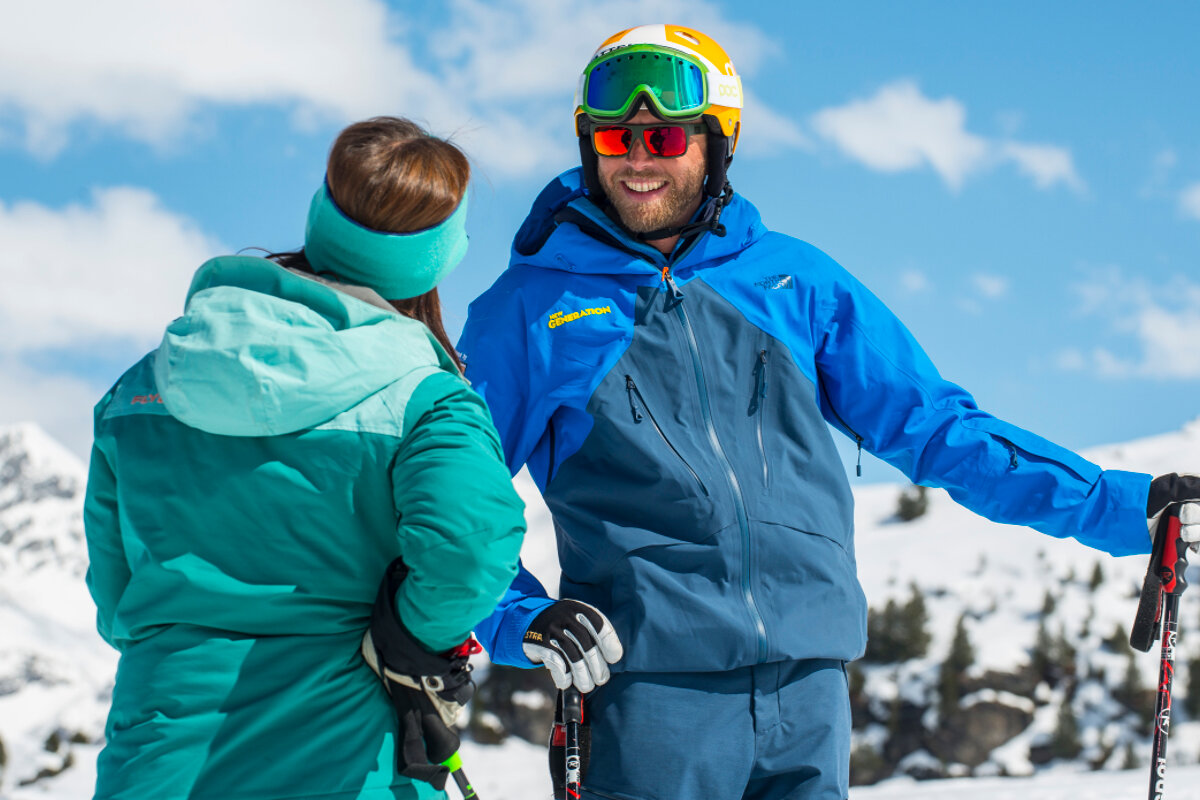 ---
Thanks to New Generation ski school for this article. They offer instruction from a professional, experienced team in Tignes. Small group lessons are great for beginners who want to learn in a social setting. Their local instructors will pick the most suitable terrain to build your confidence, and improve your technique throughout the week.