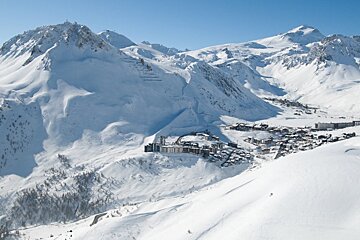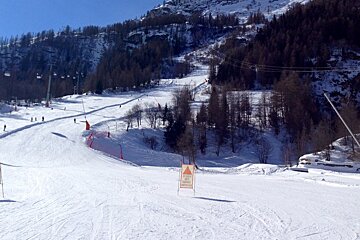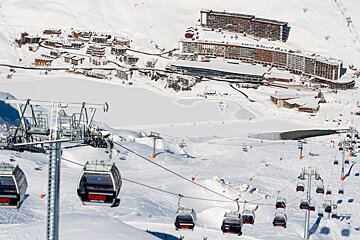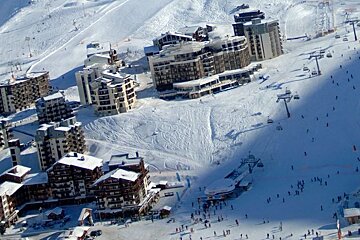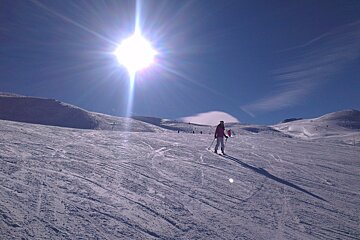 Why Tignes is great for beginner skiers
The best advice for novice skiers and snowboarders
A great place for beginners, you'll find so many slopes to explore and enjoy.
With a little locals know-how, our tips and tricks will help you make the most of your time here and hopefully leave you desperate for more.
Tignes is a snow-sure resort sitting at an altitude of 2,100m with the Grande Motte glacier rising above it at 3,450m, which is accessible both winter and summer. But it's not all about the lofty heights of skiing the glacier. There is a wonderful world of beginner areas to explore in and around the resort and across the whole of the Espace Killy ski area.
Here are our top tips:
You may not need a full lift pass - beginner slopes are usually low down, easily accessed and some don't require a lift pass at all
Book into ski school, don't let your mates or partner teach you, trust us and hire a professional
Consider your choice of equipment hire shop
Plan your outfit before you arrive
Utilise free public transport
Enjoy the fun zones, they usually have a beginner area
Explore the whole resort, seek out the blue and green slopes away from the beginner zones
Explore the blues and greens of the other resorts included in your pass
Enjoy après-ski - after all you'll have earned your stripes
Book online
Whilst it is possible to arrange these things once you're in resort, we wouldn't recommend it - especially lessons. Plan ahead, book what you can, and take the pressure off that first morning.
Lift Pass
If you're a complete beginner and booking into ski school you might not need a full Tignes-Val d'Isere six-day pass. In fact in Tignes many beginner lifts are free. That's right… free! It's worth checking with your ski school before you buy, some schools offer packages that include a lift pass. Buying online couldn't be easier and the pass itself can be recharged / reloaded next time you visit. And rather than opt for them to be mailed to your home address, simply pick them up in resort. It's one less thing to remember to pack.
Lessons
Don't let your friends or partner attempt to teach you to ski or snowboard. Trust us, for the sake of your relationships, put yourself in the hands of the professionals. Luckily there are many ski schools in Tignes offering group and private lessons with friendly and knowledgeable English speaking instructors. If you're the only beginner in your group it's definitely worth joining group lessons. You'll learn in a safe and fun environment, and make new friends with rest of your crew over your shared experiences. Lessons are definitely something you should book well in advance to ensure you get your slot - especially if your ski trip is during the school holidays.
Equipment hire
Renting your gear online is often cheaper than in resort, and most shops have beginner ski / snowboard packages on their websites. Also it's worth making sure your pick up point is close to your accommodation, so it's not too far to carry your gear. Some shops offer free locker use near the slopes for customers, delivery services, and may even come to you for fittings on arrival if pre-arranged, especially if there's a group of you. It's worth checking this with the shop before you book.
Make the most of your time
All the gear, no idea
For the beginner skier or snowboarder it might seem expensive to lay out for the right apparel before you arrive. There are a few places that rent clothing in resort, but we'd recommend you borrow what you can, check out the sales and online discounts. At the bare minimum make sure in addition to your trousers and jacket, that you've got a helmet, some goggles, gloves, and technical ski socks. Plus a lightweight back pack is always handy for carrying water, sunscreen and an extra layer.
Get on the bus
Plan your route from your accommodation to the beginner slopes, and use the resort's excellent public transport system to get around until you get the knack of carrying skis and poles like the pros.
The beginner slopes
Tignes has developed a three-step "Ski Start" progression programme on its gentle slopes, providing areas designed so you can learn by yourself or with an instructor. Lifts in Step One and Two are free.
For the magic carpet, the Lavachet drag, and the Rosset chair in Le Lac and the Bollin chair in Val Claret you don't need a lift pass so you can enjoy lapping these lifts to build your confidence until you're ready to go up the mountains. Head to Grand Pre for wide open pistes. Once you're ready, head to Grand Pre chair (between Tignes and Val d'Isere) for wide open green runs to ease yourself in. From here you can get the Fontaine Froide chair back up to more green and blue runs.
Be aware that a green run in the Espace Killy can be different to a green run in the Three Valleys. Whilst there is plenty of terrain for beginners in the Espace Killy, some green runs are trickier than in other resorts. So if you have skied elsewhere before coming to Tignes, start on easier slopes and build up again rather than going straight in where you left off.
The fun zones
Found at the top of the Grattalu chairlift, the park is a long flowing run, and its features are best suited to beginners and intermediates as the kickers aren't big. There's also a halfpipe, perhaps save that one for next time!
Explore
It's easy to stick with the tried and tested slopes you're used to, but don't forget there's a whole lot more fun to discover. For wide and rolling pistes stay on the Tignes Le Lac / L'Aiguille Percee side of the mountain. However, Tignes and the wider Espace Killy ski area over towards Val d'Isere offer some great opportunities for beginners to get to grips with their new sporting addiction.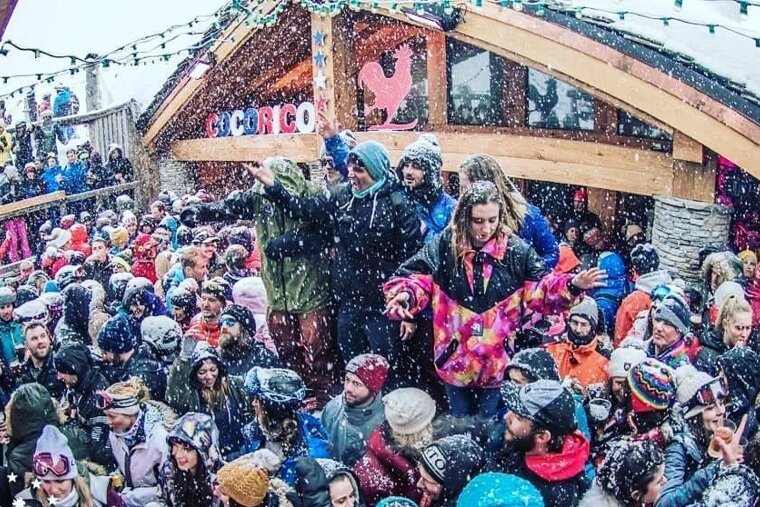 Enjoy après-ski
After all you have earned your stripes (and probably some bruises), now it's time to share your stories from the day with your family and friends, new and old.
Tignes is a great place to let off some steam after a day's exertions on the slopes. Whether that's in the local après-ski scene over a beer or two, in a local restaurant, or with a swim and sauna to relax those aching limbs. Head to Tignespace sports centre, where you'll find numerous sports activities available under one roof. Alternatively if you fancy a dip you'll find Le Lagon sports centre is the main watersports centre in Tignes le Lac, facilities include a fun pool, sports pool and paddling pool for toddlers plus there's a fitness and weights room. They also have a Wellness Centre with saunas, a hammam, jacuzzi and showers.
These are great options for a day off the skiing, in the event of poor weather or a great way to spend a few hours after the slopes close.
Families, at the very least, may finally have a shot at exhausting the kids with this option!
More inspiration...
So what are you waiting for? Get yourself out here and have some fun in the snow!