Non-skier things to do in Tignes
Can't ski, won't ski? It's not all downhill you know
When your family and friends want to go skiing, but it really isn't your cup of tea, don't panic.
You don't have to ski or snowboard to enjoy a memorable holiday in a ski resort.
Whilst Tignes is a great place to come skiing, there are many activities here to suit a non-skier of all ages and tastes.
Here are some great ideas for you:
Buy a pedestrian pass and jump on a lift
Go to après-ski along with everyone else
Ride a moonbike, horse or husky sled
Book a tandem flight
Go snowshoeing or ski-touring
Go to the sports centre
Visit a spa for some relaxation
Book a restaurant for lunch
Visit a market or see a film
Learn nordic skiing - you might just like it!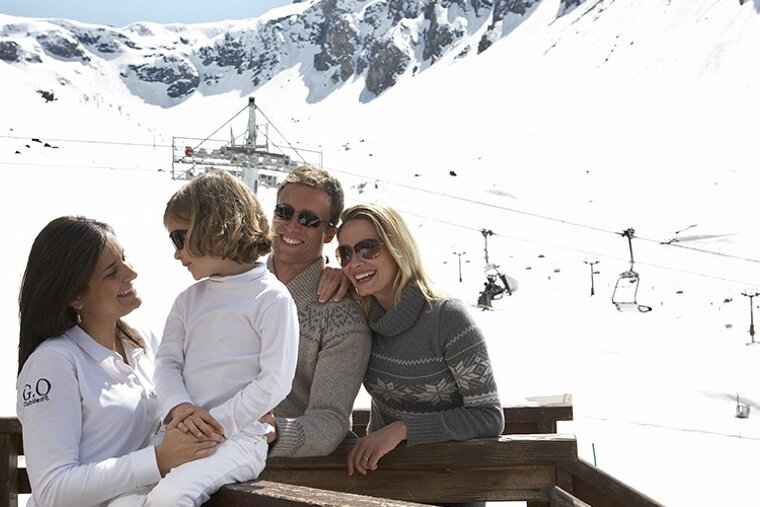 Snow fun without the skis
Buy a pedestrian pass
Enjoy the mountains as a non-skier by buying a pedestrian lift pass. It provides access to the main lifts and many mountain restaurants can be reached on foot by ski lift, so it's entirely possible to meet up with your family and friends for some fine dining.
There are some fantastic opportunities for winter hiking with sign-posted trails that can be enjoyed by all ages and fitness levels. Easy routes are possible in sturdy hiking boots or snowshoes after a heavy snowfall. You can pick up a guide from the tourist office, enjoy amazing views and escape into the wilderness for a few hours or the whole day.
You can take the Tovière gondola from Le Lac and have your picture taken in front of Mont Blanc. In Val Claret, you can travel up the mountain via Tignes' refurbished funicular and the the world's largest gondola with a viewing platform, which leads to the glacier. Why not have lunch at the Panoramic restaurant?
You can also travel down into the valley via the shuttle bus to Boisse and then the pedestrian lift to Tignes Les Brevieres at 1,500m. This quaint village sits underneath the dam and has a more traditional feel with authentic French restaurants.
Always dress for the weather - layers are the key, sunglasses and sun cream are vital even on a cloudy day. Stick to the trails, respect the environment and be aware of changing conditions.
Après-ski with everyone else
You don't have to ski to enjoy "après-ski". Meet up with the rest of your group in a local bar and share stories from your day over a beer.
Going to party at Folie Douce is a great way to spend the afternoon watching the amazing cabaret, then dance to the live, dynamic house band.
Or head to the ice skating rink on the frozen lake in Tignes le Lac for a fun evening set beneath the snow-clad mountains.
Alternatively grab a sled and head to one of the tobogganing areas in Tignes le Lac, le Lavachet, Tignes 1800 and Les Brévières. There is also a slightly different way to try sledging - Snake Gliss is literally a sledge train - a fantastic activity from which you can expect lots of laughs. Alternatively try Pala'fou, a 3km toboganning slope made for adrenaline junkies. Race through a 40m tunnel amidst the natural slope accessible via Palafour chairlift in Le Lac. You can rent a sledge, helmet and head torch, and enjoy this big thrill adventure.
Drive a dog sled, moon bike, or ride a horse
Whether on a sledge pulled by huskies, riding your own bike, or hacking through the trails on a horse, there is an excursion choice to suit all levels of adrenaline.
The husky sledding is located in the heart of the resort on the frozen lake, and we recommend booking in advance as this is a very popular activity. The Moonbike experience is for those with some biking or motorbiking experience. Just remember to wrap up warm and bring goggles if there is fresh snow.
And if you love the idea of discovering the valley on horseback, there are a number of activities including horses, from being pulled along on a rubber ring, travelling in a horse-drawn carriage, or getting out on a hack.
Book a tandem flight
Take to the skies for a bird's eye view of the mountains with a tandem paragliding flight, or book yourself onto a helicopter tour.
Snowshoeing and ski-touring
You can really get away from it all and disappear into nature on some snowshoes (raquettes). Grab a printed guide from the tourist office or book yourself on a snowshoe excursion with an activity company to see a side of the mountains that most skiers will never see.
Full-day, half-day and night-time options are available to take you into the heart of the mountains – from the highest peaks to the wildest valleys. Equipment and transport are usually included, check when you book.
If you've decided the days of skiing up the mountain all-day, every-day, are well behind you, those with previous skiing / snowboarding experience could try ski touring. There are many famous ski touring routes in Tignes, and it's a great way to work up a sweat, earning your burger whilst the rest of the world takes the lifts. Hire a guide and pull on some skins for an adventure away from the madding crowd.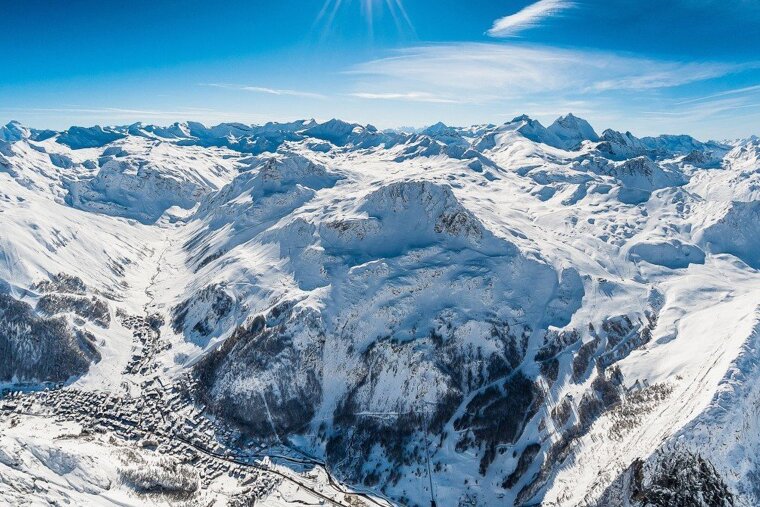 Not just a ski resort
Tignes is so much more than a ski resort. In fact, you can really have a great time here without setting foot on a lift.
Go for a swim
The Lagon swimming pool is located in the heart of Tignes Le Lac, offering spectating views of the mountains with floor to ceiling windows. It has three pools, making it a popular choice for both adults and children. There is a wellness area with jacuzzis, saunas and a steam room and a modern fitness area. There's also a climbing wall (bear in mind you have to bring your own harness and rope) and bouldering wall, trampolines, tennis, badminton and squash. So don't forget to pack your gym kit and a swimsuit (speedo-style only boys).
Book a treatment at the spa
Or if all of that sounds far too active and you really just want to pamper yourself and read your book, or stare at the view, there are numerous spas and treatment rooms you can enjoy. Many hotels have luxury spas which are open to non-guests, the public pool has relaxation areas, and mobile massage companies will arrange to visit you at your chalet or apartment.
You can also make full use of the Village Montana facilities for as long as you like (for a small fee). This includes access to their outdoor heated pool, sauna, steam room and jacuzzi. Access to this area is free if you book a treatment, so there is no excuse not to spend the whole day relaxing and pampering yourself.
Book a table
And when you feel hungry, enjoy some slap up French cuisine with a glass of fine local wine - you deserve it. Many local restaurants have well priced lunchtime set menus offering the same cuisine as their main menus, but often with considerable discounts. Some offer wine tasting sessions also.
Visit a market or go see a film
A great option is the local market that appears every Thursday and Sunday from midday to the late afternoon. Situated on the Promenade de Toviere, you can get everything from meat to mittens at this local and traditional French market.
Or drop into the cinema in Val Claret, grab a box of popcorn and catch up on the latest releases - look for VOST or VO (version originale) for English language films.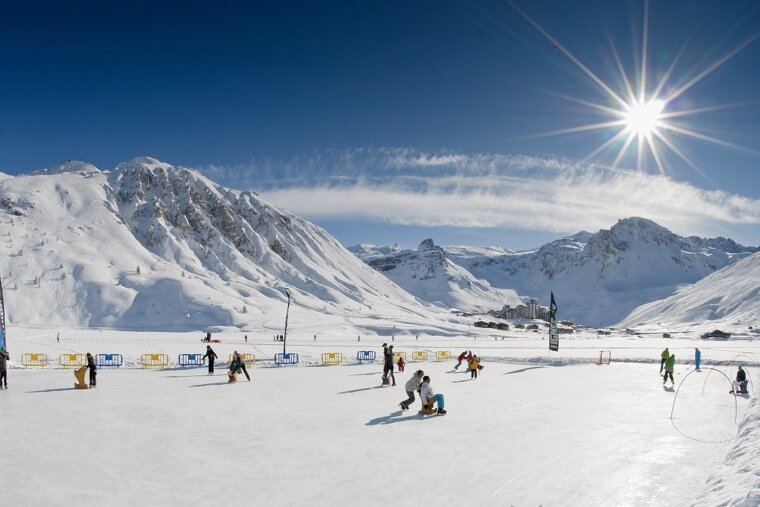 Skiing, but not skiing
Nordic skiing
Still looking for something to occupy your time?
There's always cross-country skiing to try. An extremely popular mountain sport, known as 'ski de fond' in France, there are around 44km of cross-country tracks available in Tignes and neighbouring Val d'Isère. The tracks in Tignes are free to use, are mostly situated at the base of the slopes and on or around the Lac area. You can hire equipment and arrange lessons locally, and the views are to die for!
More inspiration...
As you can see there is more than enough to keep you occupied here during a no-ski skiing holiday. So unpack all those books you planned on reading, you simply won't have time.