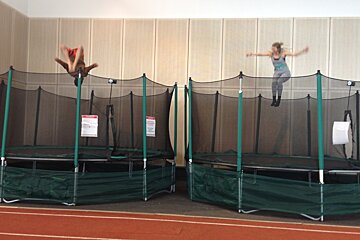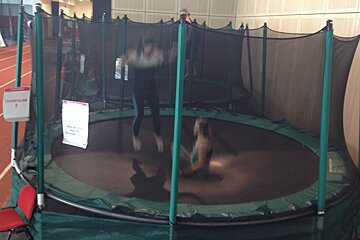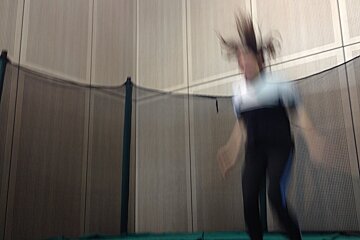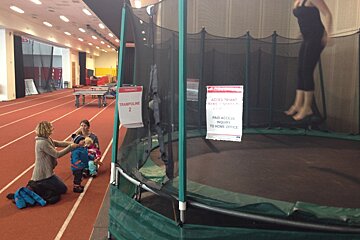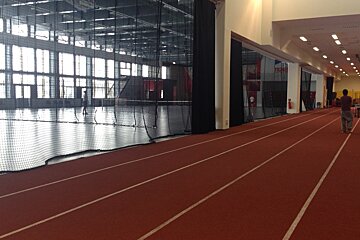 Trampolining at Tignespace
Bouncing around on bad weather days
What can be more fun than spending an hour of your day jumping around like a kid? Not much! (Well maybe finding some sweet fresh powder).
If you haven't discovered the awesome trampolines at Tignespace yet, I highly recommend it. Tucked away behind the badminton courts and the track, you will find two trampolines just waiting for you and your friends to bounce on.
To jump, all you need to do is speak to the lovely lady at the front desk of Tignespace, ask if a trampoline is available and pay her 5€ for 30 min (10€ for an hour) of pure fun. You should also pack some proper jumping attire – loose exercise clothing is best (jeans not recommended). It's not usually crowded, but you may have to wait a few minutes for a group to finish before you get your turn on the trampoline.
There are two trampolines available for jumping. Both have netting around the edge to ensure no one bounces out, but super tall people should use caution as they may come close to bouncing over the edge or on top of the netting. Only one person is allowed to jump at a time for safety reasons, which is a little unfortunate as games like 'Crack the Egg' and trying to double bounce your friends is always a cracking time.
Going for a jump on the trampolines is an activity suitable (and fun!) for all ages. When we arrived, there were two small children having the time of their lives, under the careful supervision of their parents of course. Our group was significantly older in age, but the great thing about a trampoline is that it totally brings out your inner child. Just jumping around brought back fond memories of my childhood and all the crazy games, tricks and antics we would get up to on the trampoline.
For those who are a little more serious, visiting the trampolines is a good place to work on your super cool skiing/snowboarding tricks without the pain of falling on hard packed snow. We spent over an hour working on backflips, front flips, double backflips, and everything in between. But if you are like me, just jumping around is enough for a grand old time. In other words, I am too terrified to do a front flip, even on a trampoline. Despite some positive coaching from my good friend Danny, I was still too petrified to do anything but bum drops and half flips onto my back.
If jump jump jumping around isn't your thing, there are LOTS of other activities available at Tignespace. On a cloudy stormy day when you don't want to ride or if you are looking for something sporty to do in the evenings, I highly recommend checking out what's available. The indoor sports centre is a multipurpose complex where high-level athletes come to train all the time. At the centre you will find a sports hall for basketball, handball, volleyball, badminton, tennis, roller hockey and futsal. They also have an athletics track, three squash courts, a massive climbing wall, weights room, two multi-sport rooms and an auditorium (available for hire).
The centre is open every day from 10h to 21h and if you have any questions you can call +33 3 79 40 6 60. Prices vary for each activity, but most activities cost between 5-20€ for an hour session. A great deal! For the racket sports, you can hire rackets and shoes onsite. The climbing wall is definitely the coolest part of the building, but unfortunately you need to have a high level of experience and your own equipment if you want to climb.
Happy jumping and sporting!