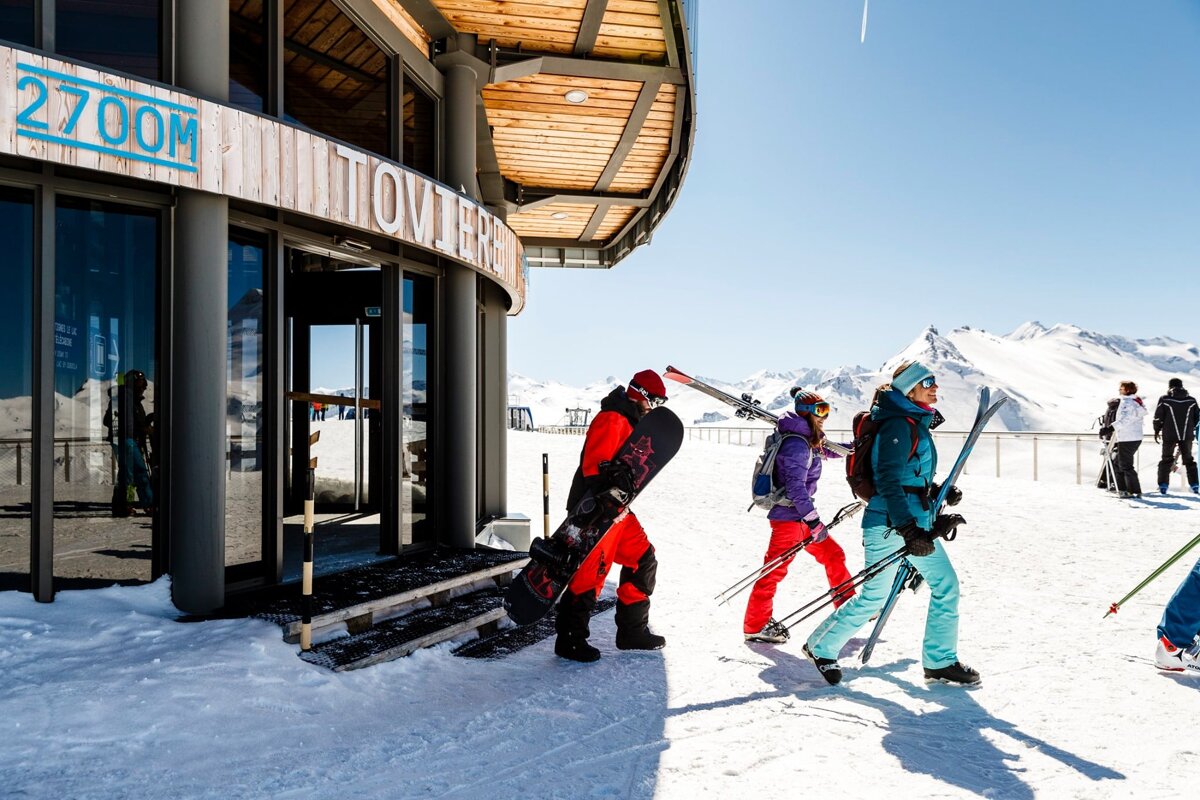 December in Tignes: What's On & Weather
This month sees the start of the winter season
It may be the last month of the year, but the ski lifts are open and Christmas is on the horizon.
We can expect sports competitions, opening parties, and there will obviously also be lots of festive celebrations including a visit from a certain Papa Noël. As you are no doubt aware, most things in December revolve around the last two weeks of the month, schools break up and travellers from near and far descend on the valley. There are a plethora of events coming up, from parades to special Christmas menus and New Year's blowouts.
Read on for a look at what we like to do in resort throughout December.
What are the weather & snow conditions like in Tignes in December?
It's definitely cold here in December, with temperatures averaging from -7°C to 1°C, and around eight days of snowfall. Make sure thermals are on your Christmas list.
As Tignes is such a high resort where we enjoy colder temperatures, which in turn result in longer-lasting snow, we are also often subjected to high winds at the start of the winter season. This can often mean that the avalanche safety rating is higher and we need to take care of wind slabs which can release easily off-piste. The Tignes pisteurs (in yellow and black jackets) are also extremely friendly and helpful and will answer any questions you may have. If you're having difficulty with the visibility in the storms, we recommend heading lower down to La Daille or Le Fornet on the Val d'Isère side, or to Les Boisses and Les Brevieres near the Tignes dam.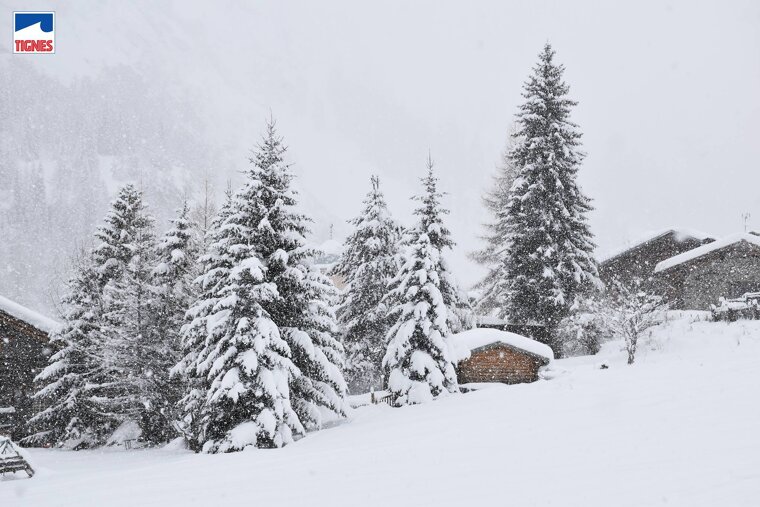 What's on in Tignes in December?
There's lots going on over the festive period in Tignes.
Christmas market
Enjoy the Christmas market on the Rue du Rosset in Tignes le Lac, and sample the free tasters of local cheese, ham and mulled wine before you buy.
Christmas in Tignes
With so many families visiting the valley for the festive season, there is a real child-like excitement as the big day draws ever closer, and usually there's an opportunity to spot the main man himself meeting and greeting people on 24th December in Tignes Le Lac, along with a torchlit descent, fireworks and chocolate party. When the twinkly lights and animations are switched on at the Maison de Tignes le Lac, it's hard to ignore that Christmas is nearly here.
To prepare you for your French Christmas, here are a few festive facts that make the French Santa Claus a little different:
Rather than a red hat, Père Noël wears a red cloak with a hood trimmed in white fur - a small difference easily unnoticed.
Children do not wake up to presents under the tree on Christmas morning, because traditionally le Père Noël brings toys to good little boys and girls after evening Mass on Christmas Eve.
Children do not leave milk and cookies for Papa Noël, but at the very least they'll leave him a glass of Calvados or wine.
Children do not hang stockings, but rather leave their shoes and slippers out and if they have been good Père Noël will fill them with treats.
Children in France behave around the holidays out of fear of Le Père Fouettard, who follows Père Noël to discipline naughty children.
New Year's Eve Fireworks
The New Year's fireworks party on the snow front at Tignes Le Lac only grows bigger every year! Make sure you head on down to Le Lac snow front before 23:00 wearing your sparkliest party pants, ready to dance! The midnight fireworks party in Le Lac on New Year's Eve in infamous for the famous DJs it attracts, boasting David Guetta and Martin Solveig in previous years! Plus the beauty of the fireworks against the snowy white mountainous background is something not to be missed.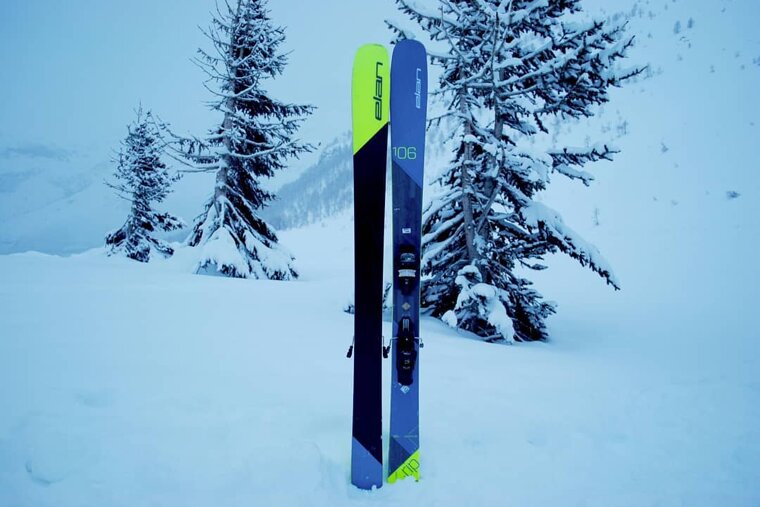 School holidays Skiing
The lift company usually schedules a partial opening of the ski areas around the middle of the month, with full opening planned by Christmas. Of course, this absolutely depends on snow conditions, so keep an eye on our news page and social media as we'll let you know as soon as there's any new information.
Christmas and New Year is a popular time for families so the slopes are noticeably busier as soon as the holidays begin. Fortunately, the ski area is so vast, that even in high season you can find quiet slopes and minimal lift queus. Here are our insider's top tips for the school holidays:
It will be almost impossible to book private lessons over this period, group lessons are the best option. Make sure to get your ski and snowboard lessons booked well in advance to avoid disappointment.
If you're not in ski school, be an early bird. Arrive at the lifts before they open so that you get up and away before the ski school classes set out around 09:15.
Ski over lunchtime. The slopes are calmer between 12:00 and 14:00 while the French take a leisurely lunch break.
Pre-book your lunch and avoid the queues. Some restaurants offer a Click & Collect service. It's the best way to avoid the queues and make the most of your time in the mountains.
Seek out the peripheral areas. Try to avoid the busy main ski areas closer to town.
Get off-piste. Competent off-piste skiers can book a local mountain guide and explore the vast off-piste areas in the valley or even go touring to find complete solitude in the backcountry.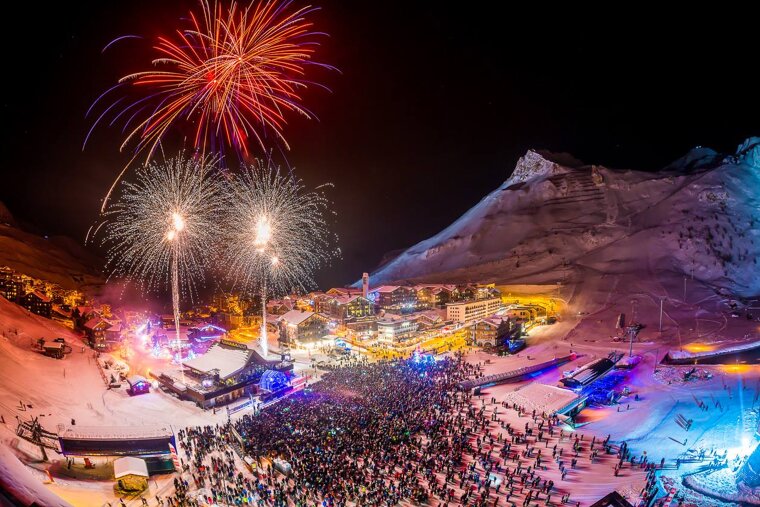 Things to do
Family fun
Christmas is synonymous with school holidays. As hundreds of children and their families descend on the pistes, Tignes puts on a show for them. There are lots of activities to keep the little ones entertained on and off the mountain.
For more information on activities take a look at our Things to Do page.
Bars & Clubs
Après-ski
If, like a lot of people, you like to follow several hours of exercise with several hours of drinking, especially during the festive season, you can hit up any of a number of local après-ski sessions. Down at the bottom of the slopes you'll find bars offering great music, delicious food and happy hours. For late-night entertainment, the clubs hold special nights on most days of the week.
There are, of course, plenty of parties and festive evenings to experience in the run-up to Christmas and New Year. If you're looking for the perfect entertainment for your group, check out the following bars on their social media for updates of tinsel-inspired events: La Queue de Cochon, Cave du Loop, Couloir, Marmot Arms, Brasero, Box... there are many, many more.
As the French tend to celebrate Christmas Eve, I'd recommend those without kiddies in tow to head somewhere like Boulele (next to the Tabac on Rue du Rosset) to sample a true French Christmas, complete with oysters and bubbles.
New Year's Eve
Always a big night, the town is full of revellers popping Champagne corks. The restaurants will be busy, so it would be best to make a reservation to ensure you can get a table, and many of the bars and clubs are ticket-only, so if there's somewhere you plan to see the New Year in, make sure you've planned ahead.
More inspiration...
December is a magical time of year to come to Tignes. Book your holiday now and enjoy Christmas in the snowy Alps.